Learn How to Make Art Rugs - Relax it's Play Time!
"The true sign of intelligence is not knowledge but imagination". This is my absolute favorite aspect of custom rug fabrication. And you can also learn how to express your imagination by making art rugs just like you see here.

Notice these designs above are organic shapes and have free-flowing edges. The rugs are finished with a nonslip backing and edge binding. How cool is that?
Learn How to Make Art Rugs
Making Art Rugs was always on my mind when I began my journey as a rug maker.
Everywhere I looked, ideas were popping up on my little radar.
I would make notes on these and stash them away… for those rainy days.
Eventually, I began some side projects – Rug Art – using leftover remnants of carpet from earlier projects.
I hang them on the walls in my rug workshop, and sometimes I sell them.
In between client projects, I find the time to step outside the box and do what I enjoy creatively.   
Create Rug Art Pieces for Your Art Show
Recently, I devoted my summer months to create a collection for an art show in Sedona, AZ. I focused on ancient symbols like the OM symbol, Flower of Life, and the Sri Yantra.
The Sri Yantra design features mixed media, with thick plush carpet and glass drops. The drops were inlaid into the design around the perimeter. See the image in the gallery here on this page, bottom right hand corner.
It was a fun show with loads of traffic. From a marketing standpoint, it helps to get the word out and cross-promote with other events happening at the same time.
In case you were wondering, the blue rug features a silhouette of a very famous deity known as Kali Ma.

She is The Black Goddess. She is the Destroyer of Ignorance. The black symbolizes 'emptiness', and the demon heads she holds represent the wisdom seeker's ignorance (and ego), which she appropriately severs for the seeker… liberation follows.
She has gruesome qualities that I find absolutely adorable. The adoration is for what she represents; a ruthless awakener who does not fit into any spiritual mold.
On the flip side, she can take on other forms and appear as a golden, beautiful, goddess as well. She is a Mahavidya, and it is said that all 10 Mahavidyas are emanations of Kali. She has her moods.
And check out that Buddha Rug, it's another Art Rug side project. It's a one-of-a-kind design based on a wood statue I found. It is a complex piece with a fun story behind it… I'll write about it sometime soon.
Learn about Kali Ma – The Black Goddess – over at my pet project site Braveworld.cc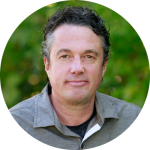 Russell has been designing & fabricating premium custom rugs since 1991. He has helped 100's of companies, gov agencies, & private clients with their custom rug needs.